Using Daily Planners
To Maximize Each Day
Daily planners are simple tools that can help you complete your daily tasks. It can help you get organized with your schedules and tasks for each day.
Day planners are designed to simplify your life because you have steps and a guideline to follow throughout your day.
It can lessen the chances of having stress because making responsibilities are easier if you're reminded of what you need to do.
What Makes an Effective Planner?
Day planners that are effective and convenient are simple ones. Clear, easy to read and write in. It doesn't need to be intricate, flashy, too detailed or with many labels and designs.
After all it has to serve its purpose well and you won't need it much at the end of the day.
You can have or make one with a light background color for readability or using a simple template to simplify it.
Here's an example of one of the day planners you can use: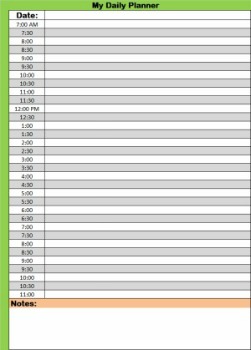 Printing this daily planner will need a 8 ½" x 11" piece of paper or "Letter size"
Click this link to open the PDF file of this Planner to Print or Save
An effective planner for getting things done should include these few details:
Limit your time for your day planners, you can limit until 11pm because you need sufficient rest and avoid sleep deprivation.
The use of daily planners is one of the timesaver tools you can use at the same time increase your personal productivity.
It can help you get organized with your busy schedule keeping track of events and following a list of tasks and commitments that needs to be accomplished.
Like a weekly planner which outlines the whole week and a monthly planner for a whole month the main objective is to "complete" what needs to be done.
As you get organized with day planners you'll prevent having some procrastination because you'll have a sense of direction on what to do next.
How Simple It's Done!
Getting things done using day planners start with writing down your morning routine which is what you usually do at the start of the day.
While you should put down all the tasks you need to complete you should not forget to put breaks in-between your time schedule as you get organized so you won't get overstressed with your responsibilities.
Day planners can help lessen the tendencies of having anxiety because you'll be more likely to fulfill your commitments to other people.
You'll avoid missing important tasks and thoughts for the day. It can simplify your day with less hassles and confusion.
One purpose of daily planners is to promote simple living avoiding the complicatedness of "no structure" or disorganized schedule.
Another type of day planners you can use that is more systematic in its features and ways of using is the Franklin Planner which is designed for more advanced personal time management.
Use Your Schedule Well
The most important use of daily planners aside from getting organized with your time is getting things done within the day.
Follow your schedule by sequence it needs focus and dedication to complete each task one by one until you finish them all.
You simplify your procedure by doing so but if there is an emergency and any other important thing that suddenly happen during the day you may need to compromise and adjust your schedule.
After all even though we don't like it anything can happen right?
Life is simply full of surprises and uncertainties. You have to be flexible too while you get organized.
However getting things done is your main objective using day planners and there are situations when you need to refuse or reject a favor or a request being asked of you in order to finish your activities, especially at work.
You should avoid being a perfectionist with what you do because it can slow down your progress.
Notes are Important
Having a notes section in your day planners can serve you an important purpose such as:
Do You Prefer a Compilation Instead?
If you want to use day planners but don't want pieces of separate paper another option you can do to get organized is by using an "organizer type" of day planners.
It's like a thick notebook with soft or hard bound cover.
See the day planners sample below: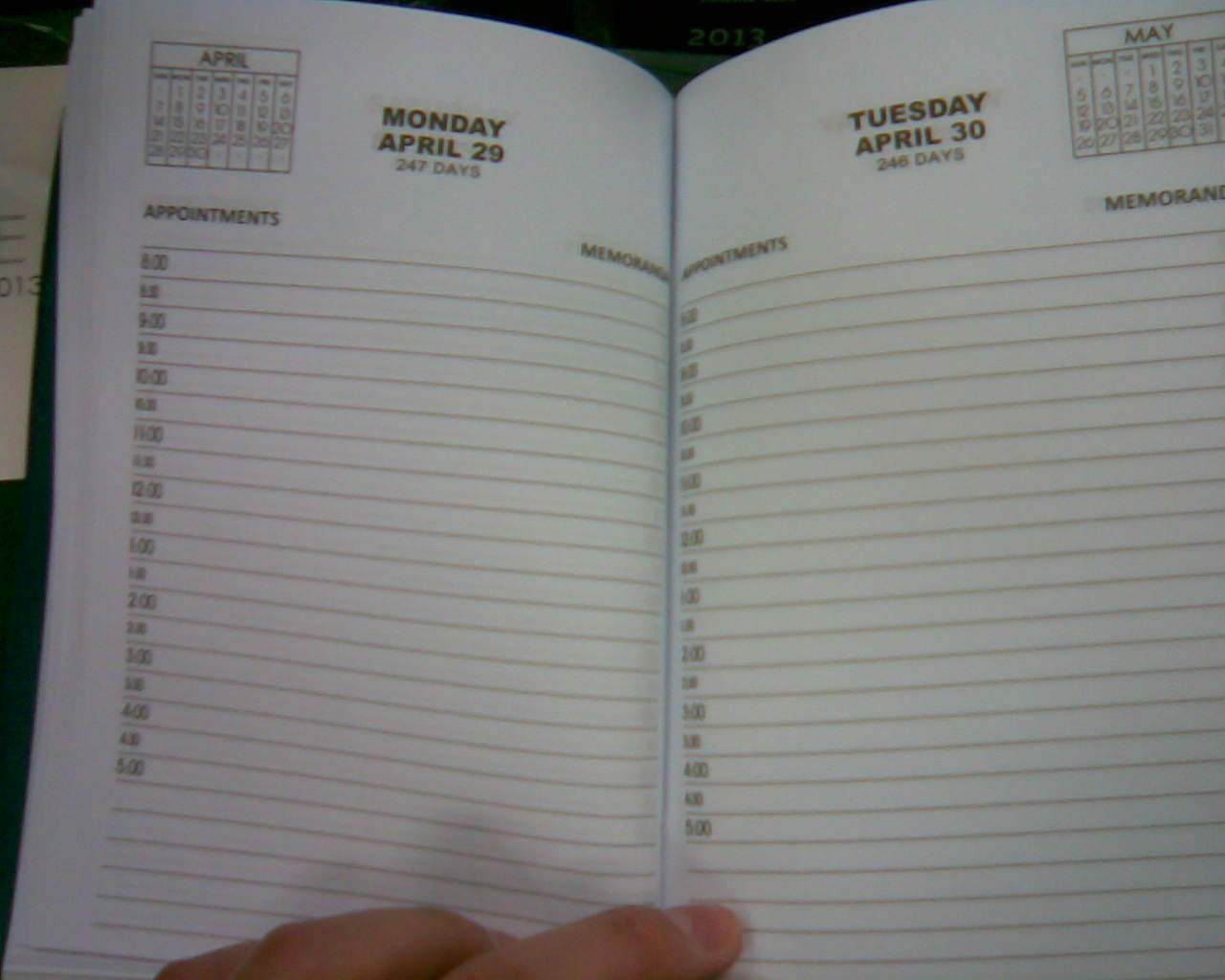 Using this type of daily planners where each page contains a full day clock-time for your schedule enables you to keep a record of your daily tasks in an organizer.
In this case you can track the tasks you did during the past few days and check them.
This is like using a diary but different.
When you simplify your life you should make your work balanced with your personal life.
Consider times for relaxation in your schedule so you can relieve stress problems and bring yourself back in the mood.
Applying good organizing ideas at your place can further help you get organized and simplify your things so it would be beneficial to include it in day planners at times.
Making easy recipes are another useful activity to include.
There are several useful things to include with day planners but don't overdo it. Don't put anything you can think of but cannot really commit to.
Part of the characteristics of a dynamic leader are the efficient handling of time and schedules in order to produce excellent results and increase team productivity.
There is also a printable planner you can easily use with a pre-made template and outline however you can still make your own if you prefer.
---
Daily planners are very useful tools for managing daily hours and times.
It can help you simplify your thoughts when doing things as you get organized with your responsibilities for getting things done with what needs to be finished. However you should learn to plan ahead if you can commit to your tasks.
---
Related Page: