Using Evernote To
Remember Everything And
Avoid Waste Of Time
Have you tried using the Evernote? If not here's a great reason why you should try adapting this software application as one of your time management tools.
This program helps you with your things to remember about anything and can be used in most situations.
It can serve as lifehacks to make things easier for you and avoid making unnecessary mistakes which is a good timesaver.
The program is software and services combined package mainly designed for note taking and archiving.
As a time management software it is also flexible and can be installed on most modern devices such as:
You just need to download the program from their websites, evernote.com and create a single account which can be used in most devices.
The Interface and Functions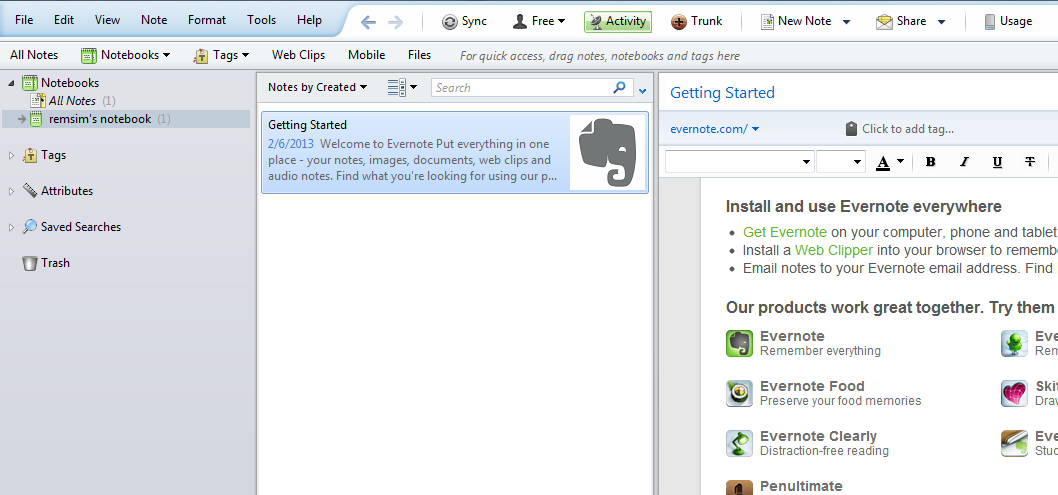 The program can keep and manage your files such as:
It can help you get organized with the things that you do and getting things done becomes easier for you of what you need to accomplish.
This includes:
And of course you cannot remember all of these things that you do throughout the day that's why the Evernote can be very useful to you in doing your tasks and thinking of things.
Another benefit of this tool is it can help you reduce stress much better.
You can do more using the most of your time if you know the things to remember. It can help remind you of most things but it doesn't mean you have to multitask.
What More can You Store?
You can record and archive almost everything and this includes:
You can also record good organizing ideas for improving your home and workplace to make your condition more convenient for you. These are beneficial things to remember.
However despite all the information you can keep you still have to become organized and the things to remember for your goals are most important.
Start with a good morning routine, then do your tasks in sequence throughout the day by priority.
Use positive affirmations to help you keep up with all the things that you do. You have to make the most of your time by fulfilling as much as you can.
Entering Your Data
Typing your notes through keyboard entry is the main procedure of entering your data and information however the time management tool supports capturing images from cameras on supported devices and voice notes can be recorded.
There are some situations where the text appears in captured images can be recognized using OCR and annotated.
Handwriting recognition is also supported through touch and tablet screens. 
Web clipping is also a useful function as it captures images from the internet.
Getting Organized
Using the Evernote as your time management tool and time management software can help you get organized by moving and organizing your files and notes.
You can also tag notes for quick access or retrieval and you can automatically synchronize them.
There are several functions you can use to sort and handle all data the way you like it and it gives you the flexibility you need.
It can help you with your listening skills and you'll improve your productivity if you can use these functions appropriately.
You can make notes and archives with this application through a scanner, camera and other devices that can save files. In other words it works as a digital reference system.
Like the Google Calendar there are many functions you can explore to help you get organized and being able to do things in the proper manner and in order can be your natural remedy for anxiety.
Can be Used as Aids for Disorders
Making life easier for those who are suffering from disorders such as ADHD in adults and those with ADHD in children is possible with the use of the Evernote because people with ADHD tend to lack attention and be forgetful with the things that they do.
People who experience Bipolar symptoms can also be helped using the application as a partner because they tend to change moods, behavior and performance which could create weaknesses in them while doing their activities.
Learning disorders can be given support using a time management software like this aside from using technical aids to ease the problem.
Flexibility with Most Devices
The Evernote is available on most platforms like Microsoft Windows and Mac OS X. It can also be used with Android and IOS units such as the iPhone, iPad and iPod Touch. It can also be used in Blackberry and Maemo platforms.
Most applications nowadays can use this time management software and most types of information and files can be collected.
---
Time management software is about remembering everything and there are many things to remember in life.
The tool discussed above can be one of your time management tools as a partner in your daily activities.
However you should learn to organize the way you do things with all the information you can keep and your productivity and achievements will surely dramatically increase.
---