Preparing Easy Recipes
For Your Fast-Paced Living
You can prefer easy recipes for your daily meals if you're always on the rush with the many tasks in life you have to do.
The average working person these days tend to be very busy everyday for work and making a living, yet this can be applied even to students these days who are studying hard at school. Easy recipes have been an option for some people in order to save time and proceed quickly with the tasks they need to finish.
Some prefer to take short breaks only within their schedules in order to fulfill more and their busy day starts at morning after waking up. If you're living with a busy lifestyle, it would be best to start with a good morning routine together with preparing easy recipes.
Here are some easy recipes you can prepare:
Morning Sunshine

Breakfast
Starting your day with an exciting breakfast can start your motivation for the rest of the day. Here are some healthy quick recipes you can use which can help you improve your productivity for the whole day.
1. Golden Blueberry Pancake
Pancakes are a classic breakfast that everyone loves. Today, it has different kinds of easy recipes however this is one type you're going to surely like.
You can use the Evernote tool to help you remember all these guides for preparing your quick recipes.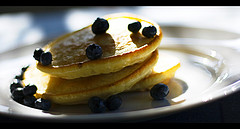 Photo Credit: ugod via Flickr
Good for 12 servings.
Ingredients:
Procedure:
a. Combine the flour, baking powder and blueberries in a bowl and stir to mix well.
b. Stir in the buttermilk and egg whites.
c. Get a large skillet and put in a thin layer of olive oil then let it get heated.
d. Pour in ¼ cup of batter into the griddle for each pancake and let it spread into 4 inch circle.
e. Cook until the tops of the pancake are bubbly and the edges are dry.
f. Turn the pancake to the other side and cook again until it's golden brown.
g. Transfer to a serving plate.
h. Add syrup as desired.
2. Yummy French Toast
The French Toast is one of your easy recipes that give a twist to your ordinary bread. It makes eating bread special even for kids who love a soft and flavor taste.
Since this food can be prepared with a short time it can serve as one of your lifehacks when beginning your day.
Photo Credit: Annie Mole via Flickr
Good for 12 servings.
Ingredients:
Procedure:
a. Mix in the egg substitute, milk, cinnamon and vanilla extract in a bowl, stir them well.
b. Dip each slice of bread into the mixture, turning to coat both sides.
c. Put a thin layer of olive oil into a large skillet and preheat it at a medium level.
d. Put the bread slices on the griddle and cook until golden brown then turn to cook the other side as well.
e. Transfer into a serving plate.
3. Cornmeal Waffles Delight
Waffles quick recipes can be flexible for people who are always busy because you can make them in advance, placed in a container or zip-type bag and put in the refrigerator until you need it.
You can heat the cold waffles in a toaster and eat it. It can help you relax more if you need an extension of rest when you wake up in the morning. Aside from being one your easy recipes that you can make, it can also save you extra time for another day.
Photo Credit: TheCulinaryGeek via Flickr
Good for 12 servings.
Ingredients:
Procedure:
a. Use a nonstick cooking spray and coat the waffle iron. Preheat the waffle iron.
b. Mix in thoroughly together the cornmeal, flour, baking powder, baking soda and sugar in a large bowl.
c. Beat the egg whites in a bowl or with an electric mixer.
d. Add the buttermilk to the cornmeal mixture, mix them well.
e. Take 1 ¼ cups of the mixture into the prepared waffle iron. Let it bake until the iron has stopped steaming and waffle is brown and crisp.
f. Put the waffle on a serving plate. Add butter and maple syrup if desired.
4. Healing Congee
The congee dish is very popular with the Chinese as they are usually healthy for the body. It is a food which is usually served for the sick to help them with their recovery. The congee is one of the simplest easy recipes around which can be prepared by anyone which contains health benefits like a good digestive system.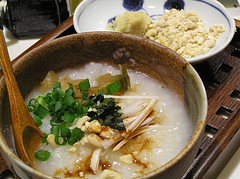 Photo Credit: iandeth via Flickr
Ingredients:
Procedure:
a. Prepare a rice cooker and put all the ingredients. Turn the cooker on then stir the ingredients occasionally until the congee becomes smooth.
b. Get a saucepan and combine all the ingredients there. Let it boil on medium heat then lower down the heat and let it simmer until the water is absorbed.
c. Serve the congee in a bowl.
L
unch and Dinner Easy Recipes
While quick recipes can be done with much less time, a meal should satisfy your stomach and it should also keep you healthy so that you'll be always energetic for your daily activities.
Practicing daily affirmations can help you condition yourself when preparing these foods. And here's another tip: organizing your home would make it more convenient for you in preparing these exciting meals of easy recipes and that's another timesaver for you.
1. Baked and Crispy Fillet
You can have easy recipes for your daily meals that are satisfying to your taste buds at the same time prevent elements such as cholesterol problems.
The baked and crispy fillet can be your choice of easy recipes meal to fulfill your appetite. You should mark this food in your weekly calendar as one of your easy recipes.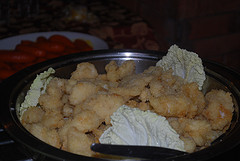 Photo Credit: Renzelle Mae Abasolo via Flickr
Ingredients:
Procedure:
a. Wash and cut the fish into serving pieces. Marinate it properly in calamondin juice, rosemary and ground pepper.
b. Cover fish fillet by dipping it in oil and coating with crumbs of corn flakes.
c. Arrange the fish fillet  in a single layer in a lightly oiled shallow baking dish.
d. Bake it at 500 degrees Farenheit for 10 minutes without turning it or basting.
2. Carrot and Raisin Salad
If you like vegetables and salads, here's one of the quick recipes for it. Another combination of nature's ingredients that is light and appetizing.
Being able to prepare healthy and easy recipes will surely add up to your personality development.
Photo Credit: adactio via Flickr
Ingredients:
Procedure:
a. Scrub carrots, scrape the peeling and shred.
b. Put in the raisins to combine.
c. Mix the mayonnaise, lemon (juice) and yogurt together.
d. Pour the mixture over the salad and mix thoroughly.
3. Chicken Noodle Soup
This next meal for our easy recipes is a soup-based which is delicious at the same time can warm your stomach. This is a great addition to your easy recipes which can be taken in any occasion making it very practical.
Mark it in your monthly calendar, you might want it for certain times.
Photo Credit: www.WorthTheWhisk.com via Flickr
Ingredients:
Procedure:
a. Get a large stockpot and put in the olive oil in low heat.
b. Put in the celery, onions, carrots and ground black pepper
c. Cook until the vegetables get tender
d. Add in the chicken broth and turn the heat high until it boils
e. Put in the egg noodles and cook it until the noodles become tender.
f. Lower the heat to a gentle simmer and stir in the chicken and parsley until the chicken is cooked.
4. Vegetable Fried Rice
Part of simple living is using quick recipes that can be easily prepared without being too choosy with the ingredients used to prepare the food. The vegetable fried rice is a simple dish which can make your stomach full while not making you tired of its taste.
When you're preparing easy recipes that is something simple you should avoid multitasking so that you can lessen the stress you encounter.
Photo Credit: roland via Flickr
Ingredients:
Procedure:
a. Heat a large skillet adding a little bit amount of canola oil.
b. Sauté the onions, garlic and lemon grass until they soften (not brown).
c. Put in the carrot and green peas to cook.
d. Add in the rice and sauté all until heated through.
e. Add lemon juice.
---
While you're trying to make things quick, you should remember that good health is important and without it you can become sick easily and have weak body performance, things which can really slow you down.
You should not simply rely on "junk foods" and those that are artificial. Fast foods should not be taken always because they're basically not good for the health.
Giving time for preparing easy recipes would always benefit you for the long term. These quick recipes can help you get throughout your day while saving time. These are designed for your busy lifestyle at the same time not sacrificing your health. Easy recipes can be quality foods too.
---