Blank Weekly Calendars
For Your 7 Days Planning
Blank weekly calendars can help you plan your 7 day schedule for the week.
This calendar is composed of boxes representing each day from Sunday to Saturday with 5 rows for the 4 weeks of the month.
A notes section is included for writing down important reminders and alerts.
Using these weekly calendars properly can help you avoid missing something important that you should do.
It will enable you to arrange your schedule regarding on what day of a week a task will be more appropriate avoiding certain conflicts that can happen.
A Simple Yet Functional Calendar
Printing this blank weekly calendar will need a 8 ½" x 13" piece of paper or "Legal size"
Click this link to open the PDF file of this Calendar to Print or Save
You can download and print as many as you need however you should make your best effort to follow what you plan for the week so it will serve its purpose well for you.
These weekly calendars are somehow similar to monthly calendars but they differ in perspective of use.
There are also printable planners you can use for another set of purposes of scheduling and making the most of your time.
Time management tools like daily planners are good for detailed personal time arrangement of tasks throughout the day.
Yet time management tools like weekly planners function like daily planners but carry all the days of the week.
This might be less simple to manage but it can help you prepare in advance and re-arrange your tasks on which day they fit best which is somehow similar to weekly calendars.
Expected Advantages
Compared with someone who doesn't use weekly calendars you'll be able to have a "big picture" and better understanding on how your schedule for the week will flow.
With this you'll be able to adjust early avoiding making commitments and plans that you cannot follow or fulfill.
You should ask the people involved with you such as family, friends and co-workers so you can make a better schedule. Listening skills can be very useful for different situations in life.
You can also be reminded of important events that you might forget as you write down in your weekly calendar.
You can put your calendar anywhere you can see, at home, at the office or anywhere. It will eventually help you with getting things done faster as you can check this weekly calendar several times.
It is easy to follow even if you have learning disabilities because the outline, format and way of use is very simple.
Making the Most Out of Your Time
Blank weekly calendars would be easier to use if you apply lifehacks  that would improve your productivity.
You should develop different techniques in order to make things easier for you to accomplish.
Find the things that can motivate you and do your best to maintain your drive at work.
You may spend a little or need other things for this but being able to perform much would make the most of your schedules.
You should not forget to set dates for relaxation therapy despite all the tasks and activities you'll be trying to fulfill so that you can overcome stress and avoid work "burn out" which can lead to loss of motivation altogether.
Overcoming procrastination strategies like advanced planning and preparing should also be done so that you'll avoid making some mistakes which can frustrate you.
Being Organized and Working It Out
It is always a good leadership trait to be organized and flexible with the help of weekly calendars as it enables you to prepare better for your daily challenges.
You should follow your weekly planners and lists of activities to the best extent so that your activities will run smoothly.
Discipline and focus are important principles in using weekly calendars. In the end your performance and determination for achievement will make your goals a reality.
Make sure to utilize the Notes section well so you don't miss anything important or anything that can improve on how you do your tasks.
Grouped Together
There are also grouped together types of blank weekly calendars you can buy at your local stores or even order online.
Here's a good example: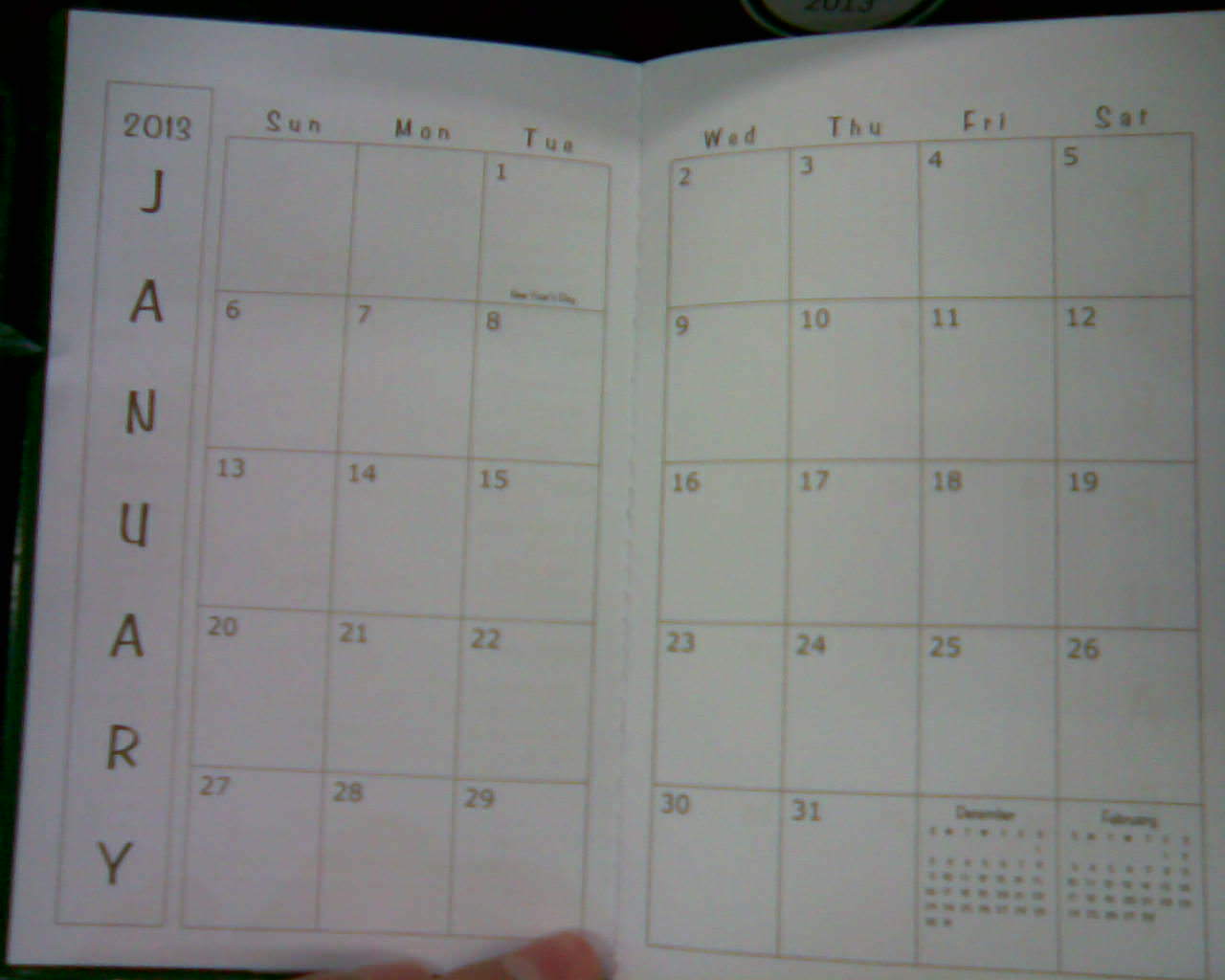 You can buy something like this organizer in which it includes all the months of the year.
Every month have the days of the week written above and the numbers representing each day are stated in each box.
Like single sheet types of weekly calendars there is sufficient space for each date to write or note down information.
It's up to you on what type of weekly calendars to use. Organizer types may consume you more space and weight because they're thicker however if you don't need a record of past months and weeks you can simply use single sheet weekly calendars.
---
Blank weekly calendars are one of the useful time management tools you can use for preparing each week. It depends on you on how well you'll use it and how much effort you'll give for it.
---
Go from Blank Weekly Calendars to