Daily Planners For
Your Everyday Time
Daily planners are your reliable tools for setting up your schedules each day. Simple day planners can help you in many ways you might not expect.
Day planners give you an outline and format with each hour of your day in relation to each task you're going to do.
It can help you reduce stress when you don't have to think each time on what you should do next because you have a sequence of tasks planned and arranged according to appropriate time.
A Convenient Motivational Planner
Here's an example of a planner you can use: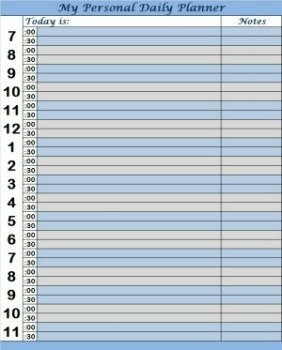 Printing this daily planner will need a 8 ½" x 11" piece of paper or "Letter size"
Click this link to open the PDF file of this Planner to Print or Save
Daily planners should have an easy to use design yet having a sense of style to help you get motivated with planning your activities:
Using day planners can help you avoid timewasters if you'll follow them straight. Distractions can be your obstacle when you need to concentrate with the things that you do.
Remember that you should focus with your list so you can finish your activities at the end of the day.
This will definitely give you a sense of satisfaction. Getting things done should become your objective when using day planners.
The Way to Start Your Day
Using day planners are more efficient if you'll start with a good morning routine.
This is the time period when you'll prepare yourself for the rest of the day and this is a good opportunity to think about, arrange and list your activities when your mind is most rested and awake.
Your morning routine should include tasks that will condition you well so you'll be able to accomplish much even there are difficult and challenging tasks throughout the day.
If you schedule your tasks well there's no need for multitasking which is not time efficient.
Balancing Things Out
The use of daily planners is not simply about increasing your productivity. Day planners should also have the purpose of helping you live a "well balanced" lifestyle.
Work-life balance is important in order to keep you inspired and healthy. Life is not simply about work but also about having joy.
You should also provide time for your personal interests and the things that can release your stress from work such as relaxation therapy.
The monthly planner tool can give you overview of events and your commitments for the whole month. It can also support you with setting aside time for your personal activities.
Making the Most of Your Planner
Since the main purpose of daily planners is to help you finish your tasks you should do your best to follow it.
As you gain "momentum" in doing things it will help you stop procrastination tendencies especially when your tasks are arranged properly avoiding too much stress.
Clutter control is also significant for you to have clearer thoughts while being busy.
Similar to the weekly planner, your day planner has a "Notes" section where you can write down reminders and additional information about certain tasks which deserves more attention.
For example, if you're going to have a meeting with an associate you have to meet him at the office with an early appointment arrangement.
You should also be able to avoid errors and mistakes in order to make things flow more smoothly. When troubles happen, it'll consume you precious time and resources.
Yet, you shouldn't become a perfectionist because it will make things harder for you and it will be more difficult to move from one task to the next.
A Set of Daily Planners
If you prefer an organizer type of day planners you can buy something like this: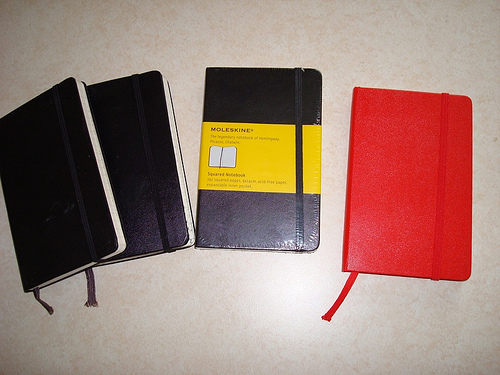 Photo Credit: jmussuto via Flickr
It's like a notebook with thick cover and a bookmarker. It's a consecutive set of daily planners for each day of the week.
You can bring this anywhere you go and check your previous and present schedules as needed. Being organized is a good part of personality development.
The more accurate you are with your time and schedules the more you become productive.
This type of organizer can be handy but if you don't need to keep all your schedules which includes the past few days you may want to prefer single planner sheets instead.
It Works Depending on You
Day planners work best if you're disciplined in using your time. Maximizing each hour affects your level of achievement at the end of the day. You have to be flexible when complicated things happen.
Unexpected events are always part of life and you have to maintain your motivation. This is a significant part of leadership traits you can practice.
If you don't have enough strength and resources to finish all your tasks by yourself you might have to ask the help and support of other people by delegating some tasks to them.
You should keep the most important tasks to yourself so that big mistakes can be avoided.
When delegating you should be able to choose the right people to do the task and you might have to give them some sort of reward or "compensation" as needed.
Keeping Your Reliable List
You can keep daily planners especially the single sheets in your envelope, bag or briefcase as long as you don't lose it. You should make sure that it is accessible anytime when you need it.
You may post it in a place where you can monitor your activities from time to time like your office desk or on your kitchen cabinet.
You may even place it in your pocket so you'll never lose it.
There are printable planners available that you can download.
It can be expected that using a day planner make you more organized and precise in fulfilling personal commitments rather than not using one.
---
Daily planners are simple time management tools for managing your schedule and making sure that you finish your obligations on time. You just have to prioritize and work your part in fulfilling all things.
---