Weekly Planners Time Management Tool For All Days
Weekly planners are your time management tools for organizing your 7 day schedule. You can avoid confusion with all the tasks that you handle every day as you learn to list them down properly at the right time and day.
These types of planners are like daily planners, except they cover each day of the week.
You'll be able to plan on ahead and arrange things for most suitable order and conflict in accomplishing your activities.
Complete Week Organization
Here's an ideal example of weekly planners you can use, you can download it below if you want:
Printing this week planner will need a 8 ½" x 11" piece of paper or "Letter size."
Click this link to open the PDF file of this Planner to Print or Save
Simple but complete. This week planner contains sections for all 7 days of the week with their corresponding daily times. This week planner gives you an overview of everyday tasks side by side.
It also contains a "reminders" box below to note down all important things you shouldn't forget.
Yes this could be your advanced planner and you can monitor back the tasks on the past days that are finished by using one single sheet of paper.
Weekly Planners Best Uses
To avoid getting things complicated when using this week planner, you should plan your tasks during the start of the day. It is a good morning routine to make a list or "a guide" of the things you need to do.
You can also schedule early the tasks you have to do the next day or next 2 days or so. You may also find it enjoyable to assign and arrange your activities while providing selected periods of time for relaxation, special moments or family bonding.
It is an effective time management tool and you can save much trouble if you can make the most out of this scheduler where you can make things more favorable to you.
Grouped Types in Organizer
Week planners can also be accessed in the form of an organizer. It is a grouped type of sheets of planners where they are compiled altogether for convenience and keeping record of weekly schedules.
Here's a sample you can buy, this is a Moleskine brand organizer: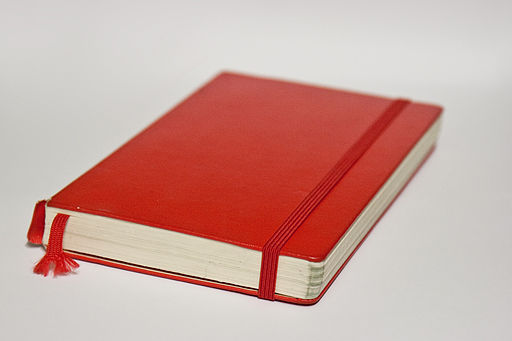 Photo Credit: Zedlik via Wikimedia Commons
You may prefer this if you like. It depends on your preference and needs for managing your schedule.
Organizers usually come with a hardbound cover with a leather skin. They may look fashionable at the same time handy but may take more of your space due to their thickness. 
---
Weekly planners are effective time management tools for everyday use. It can be used in different ways and may contain many advantages in handling tasks.
---